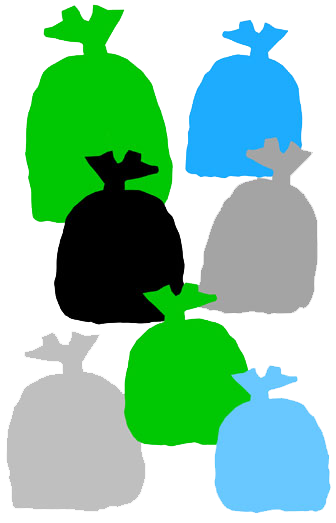 COMPOSTABLE, DEGRADABLE, PLASTIC BAGS
We are closed from midday 23rd December and re-opening on the 11th January. We will be checking emails during this period and can process urgent orders. We hope you have a safe and happy holiday season!
Easy guide to finding the right bag size for you
Select the bag that you require - copy the code and paste into the search bar to be taken to the bags for more information and purchasing.
PRODUCE BAGS

CODE

SIZE (width x length)

LITRES/WEIGHT

MICRON

COLOUR

TYPE

FL S04020
200X300
1kg
30
 
Plastic

FT PRB1

200x300
1kg
 
Clear
Plastic
FL S04030
200x375
1.25kg
30
 
Plastic
FL S04040
225x375
 
30
 
Plastic
FL S04050
225X425
2kg
30
 
Plastic
FL S04060
250x500
3kg
35
Natural
Plastic

FT PRB2

260x360
2kg
 
Clear
Plastic

FT PRB3

300x450
3kg
 
Clear
Plastic

FT PRB3-F

(200+100)x450
3kg
 
Clear
Plastic
FL S04070
300X500
4kg
35
Natural
Plastic
FL S04170
300X600
5kg
35
 
Plastic
FL S04160
315X550
5kg
35
 
Plastic
FL S04150
350X300
 
30
Natural
Plastic
EP FS LARGE PRODUCE
370x500
 
 
Clear
Degradable 
EP FS MEDIUM PRODUCE
350x430
 
 
Clear
Degradable 

FT PRB5

(250+125)x475
4kg
 
Clear
Plastic
EP NW QUICKSTAR
390x500
 
 
Clear
Degradable 
ED-8009
400(250+150)x470
 
11
White
Degradable 
FT ONIONBAG
 
 
 
Clear
Plastic
FT POTATOBAG3KG
250x500
 
 
Clear
Plastic
FT POTATOBAG5KG
315x550
 
 
Clear
Plastic
MUSHPLASBM (mushroom)
175x300
 
 
Clear
Plastic
MUSHPLASBL (mushroom)
200x375
 
 
Clear
Plastic
FRCHPLASTIC (french stick)
160x130x710
 
13
White
Plastic

BIN LINERS WITH HANDLES

CODE

SIZE (width x length)

LITRES/WEIGHT

MICRON

COLOUR

TYPE

EP 26605NZ
350x450
 
15
White
Degradable
EP SINGLET 1
350(210+140)x450
 
25
White
Compostable
EP 26606NZ
400x525
 
 
White
Degradable
EP SINGLET 2
400(240+160)x525
 
25
White
Compostable
EP 26607NZ
480x600
 
 
White
Degradable
EP SINGLET 3
480(290+190)x600
 
25
White
Compostable

KITCHEN TIDY/OFFICE BIN LINERS

CODE

SIZE (width x length)

LITRES/WEIGHT

MICRON

COLOUR

TYPE

BB ED-2000
 
8L
 
Green
Compostable
BP PSB-C-0002
220x355
8L
18
Green
Compostable
FP BG187015
390x410
8L
16
Green
Compostable
FP BG187020
430x450
10L
16
Green
Compostable
UP 200/107
450x540
18L
 
White
Plastic
MPM CA-KTLFPS
450X540
18L
 
White
Plastic
MPM CA-GH04V
450X540
18L
 
White
Plastic
BB ED-5934
470(300+170)x585
27L
15
White
Degradable
FL S03100
500(270+230)X650
 
30
White
Plastic
MW MPH2000
450x500
18L
17
White
Plastic
FL S03090
450(230+220)X500
 
30
White
Plastic
FT WRB240x230x520
470(240+230)X520
 
15
White
Plastic
MW MPH2010
470x575
24L
30
White
Plastic
MW MPH2005
500x500
20L
18
Black
Degradable
MW MPH2020
510x650
27L
18
White
Plastic
EW BINLINER-30L
510x570
30L
18
Green
Compostable
EP FS PEDAL BIN
510x650
White
Degradable
FP BG187607-44
510x570
30L
16
Green
Compostable
BP PSB-C-0013
510x570
30L
18
Green
Compostable
MPM CA-KTLFPM
510X610
27L
 
White
Plastic
PH RB27L
510x650
27L
 
White
Plastic
UP 200/108
510x650
27L
 
White
Plastic
FT WRB275x255x650
530(275+255)x650
 
 
White
Plastic
MW MPH2030
550x615
30L
11
White
Plastic
FL S03095
560(285+275)X500
 
25
White
Plastic
FL S03105
560(285+275)X500
 
25
Black
Plastic
NM SUP B30
570x510
30L
19
Black
Degradable
BB ED-2027
580x585
 
20
White
Compostable
MPM CA-KTLFPL
580X660
36L
 
White
Plastic
MPM CA-GH08V
580X660
36L
 
White
Plastic
MW MPH2040
580x700
36L
16
White
Plastic
BB SP033
580x710
36L
25
White
Degradable
FL S03110
580(300+280)X710
 
30
White
Plastic
UP 200/109
580x710
36L
 
White
Plastic
FP BG184011
580x770
35L
25
Green
Compostable
PH RB50L
580x920/1120
 
 
Purple
Plastic
EP FS Kitchen Tidy
590x760
 
 
White
Degradable
BB ED-2036
600x710
 
20
White
Compostable
BB ED-2036
600x710
36L
20
White
Compostable

STOCK BAG

CODE

SIZE (width x length)

LITRES/WEIGHT

MICRON

COLOUR

TYPE

FL S01010
100X150
 
35
Natural
Plastic
FL S01020
150X200
 
35
Natural
Plastic
FL S01030
150X250
 
30
Natural
Plastic
FL S01040
150X300
 
30
Natural
Plastic
FL S04180
150x300
0.5kg
30
 
Plastic
FL S01050
175x225
 
30
Natural
Plastic
FL S01060
200X250
 
30
Natural
Plastic
FL S01070
200X300
 
30
Natural
Plastic
FL S02010
200X300
 
70
Natural
Plastic
FL S01080
225X300
 
30
Natural
Plastic
FL S01090
225X350
 
30
Natural
Plastic
FL S01100
225X375
 
30
Natural
Plastic
FL S02140
225X450
 
70
White
Plastic
FL S01110
250X300
 
30
Natural
Plastic
FL S01120
250x350
 
30
Natural
Plastic
FL S02020
250X375
 
125
Natural
Plastic
FL S01130
250X375
 
30
Natural
Plastic
FL S01140
250X400
 
30
Natural
Plastic
FL S03120
250X500
 
70
Blue
Plastic
FL S01280
300X350
 
30
Natural
Plastic
FL S01150
300X375
 
30
Natural
Plastic
FL S01160
300X400
 
30
Natural
Plastic
FL S02030
300X450
 
50
Natural
Plastic
FL S01170
300X450
 
30
Natural
Plastic
FL S02040
300X450
 
125
Natural
Plastic
FL S01180
300X500
 
30
Natural
Plastic
FL S02045
300X600
 
70
Natural
Plastic
FL S01190
350X450
 
30
Natural
Plastic
FL S04080
350x775
10kg
50
 
Plastic
FL S02060
375X500
 
125
Natural
Plastic
FL S01200
375X500
 
30
Natural
Plastic
FL S02050
375X500
 
60
Natural
Plastic
FL S02150
375X500
 
125
White
Plastic
FL S02160
375X700
 
125
White
Plastic
FL S01210
400X450
 
30
Natural
Plastic
FL S04090
400X675
 
60
Natural
Plastic
FL S04100
425X870
20kg
65
Natural
Plastic
FL S01220
450X600
 
30
Natural
Plastic
FL S02070
450X600
 
125
Natural
Plastic
FL S02190
450X600
 
70
Natural
Plastic
FL S01230
450X750
 
30
Natural
Plastic
FL S02080
450X750
 
125
Natural
Plastic
FL S02090
450X775
 
50
Natural
Plastic
FL S02180
450X900
 
70
Natural
Plastic
FL S04110
500x1100
20kg
100
Natural
Plastic
FL S02101
500X750
 
50
Natural
Plastic
FL S02100
500X750
 
50
Natural
Plastic
FL S02210
500X750
 
70
Natural
Plastic
FL S01240
500X750
 
30
Natural
Plastic
FL S02170
500X865
 
125
White
Plastic
FL S02111
500X900
 
50
Natural
Plastic
FL S03060
500(300+200)X900
 
100
Natural
Plastic
FL S02110
520X890
 
50
Natural
Plastic
FL S04120
570(430+140)x1100
 
70
Natural
Plastic
FL S03260
600X1200
 
125
Natural
Plastic
FL S02120
600X900
 
60
Natural
Plastic
FL S01260
600X900
 
30
Natural
Plastic
FL S02130
600X900
 
125
Natural
Plastic
FL S01290
700X950
 
30
Natural
Plastic
FL S01270
750X1000
 
30
Natural
Plastic
FL S03230
885(480+405)X850
 
30
Natural
Plastic
FL S03280
900(500+400)x1000
 
30
Natural
Plastic
FL S01250
920(560+360)X660
20kg
30
Natural
Plastic
FL S03300
1000X1500
 
30
Natural
Plastic
FL S03290
1100(600+500)x1250
 
30
Natural
Plastic
FL S00385
1100X1600
 
70
Natural
Plastic
FL S03350
1600(800+800)X1600
 
20
Natural
Plastic
FL S03330
1680(840+840)X1680
 
35
Natural
Plastic
FL S03340
2000(1000+1000)X2000
 
35
Natural
Plastic

REFUSE BAGS

CODE

SIZE (width x length)

LITRES/WEIGHT

MICRON

COLOUR

TYPE

EW BINLINER-80L
390x1060
80L
25
Green
Compostable
NM SUP B60
480(330+150)x950
60L
25
Black
Degradable
FL S91141
500(350+250)x1140
 
50
Blue
Plastic
FL S91142
500(350+250)X1140
 
50
Green
Plastic
FT WRB270x260x650
530(270+260)x650
 
15
White
Degradable
FP BG187959
550x1020
60L
34
Green
Compostable
FP BG184011
580x770
35L
25
Green
Compostable
BB ED-2036
600x710
36L
20
White
Compostable
FL S03170
600x900
 
40
White
Plastic
BP PSB-C-0014
600x940
50L
18
Green
Compostable
FP BG187624
600x950
50L
18
Green
Compostable
FL S03153
630(340X290)X900
 
25
Black
Plastic
FL S03151
630(340X290)X900
 
40
Black
Plastic
FL S03152
630(340X290)X900
 
25
White
Plastic
FL S03140
630(340+290)X900
 
40
Blue
Plastic
MPM CA-RGB004
630X900
55L
 
Black
Plastic
PH RB60L
630x930
60L
 
Black
Plastic
UP 200/110
640x830
60L
 
White
Plastic
UP 200/111
640x830
60L
 
Black
Plastic
MW MPH2320
640x900
60L
40
Green
Plastic
FT BRB350x290x900
640(350+290)x900
 
25
Black
Plastic
BB ED-2060
640x950
60L
20
White
Compostable
BB ED-5940
640x950
60L
30
Black
Degradable
EP 2135132
640x950
60L
Black
Degradable
MW MPH2310
650x900
60L
30
Black
Plastic
MW MPH2381
650x900
60L
30
Black
Degradable
MW MPH2311
650x900
60L
30
White
Plastic
MW MPH2315
650x900+160
60L + handles
30
Black
Plastic
MW MPH2300
660x900
60L
20
Black
Plastic
FL S24159
670(390+280)X900
 
30
Black
Plastic
FL S02200
700X900
 
25
White
Plastic
MW MPH2350
700x900
72L
40
White
Plastic
FL S03161
700(380+320)X900
 
40
Blue
Plastic
FP BG187437
700x910
80L
24
Green
Compostable
PH RB70L
720x900
70L
28
Black
Plastic
PH RB70L-ORG
720x900
70L
 
Orange
Plastic
PC OFFICE09
720(375+345)x950
 
 
Black
Plastic
PC OFFICE12
720(375+345)x950 
 
 
Black
Plastic
FT DRB750x890
750x890
 
30
Black
Degradable
FT BRB600x150x900
750(600+150)x900
 
25
Black
Plastic
MPM CA-RGB003
750X900
70-77L
 
Black
Plastic
FL S96532
750(400+350)x950
 
25
Black
Plastic
FL S03180
750X1000
 
40
Black
Plastic
FL S03181
750X1000
 
25
Black
Plastic
UP 200/112
760x950
80L
 
Black
Plastic
NM SUP B80
760x960
80L
20
Black
Degradable
FL S21403
760(390+370)X980
 
40
Black
Plastic
BB ED-5944
780x1020
80L
35
Black
Degradable
PH RB72L-RL
780x1020
72L
 
Black
Plastic
EP 2135130
780x1020
 
 
Black
Degradable
MPM HL-RBAG01
780X1020
72-80L
 
Black
Plastic
MPM HL-RBAG03D
780X1020
72-80L
 
Black
Plastic
FL S03271
800x1000
 
25
Black
Plastic
FL S03270
800X1000
 
40
Black
Plastic
MW MPH2370
800x1000
80L
25
Clear
Plastic
MW MPH2360
800x1000
80L
25
Black
Plastic
MW MPH2440
800x1000
80L
35
Black
Plastic
MW MPH2410
800x1000
80L
25
Black
Plastic
MW MPH2415
800x1000+160mm
80L + handles
30
Black
Plastic
MPM CA-RGB002
810X960
72-80L
22.5
Black
Plastic
MPM CA-HDBL009BX
910X960
72-80L
 
Black
Plastic
NM 82L Bag in Box
810x1000
82L in Dispenser
25
Black
Degradable
PH RB80L-DSP
810x1000
72-80L
28
Black
Plastic
FP BG187626
820X1050
80L
22
Green
Compostable
FP BG187626
820x1050
 
22
Green
Compostable
BP PSB-C-0015
820x1050
 
23
Green
Compostable
FT DRB600x300x1200
900(600+300)x1200
 
30
Black
Degradable
FT BRB600x400x1000
1000(600+400)x1000
 
25
Black
Plastic
FL S00387
1300x1250
 
40
Natural
Plastic

WHEELIE BIN BAGS

CODE

SIZE (width x length)

LITRES/WEIGHT

MICRON

COLOUR

TYPE

FL S91140
600(350X250)X1140mm
 
50
Red
Plastic
FL S96531
630(340+290)X900
 
 
Black
Plastic
NM SUP B120
800(650+150)x1375
120L
27
Black
Degradable 
FP BG187628
870x1300
140L
22
Green
Compostable
PH RB200L
890(480+410)x1330
200L
 
Black
Plastic Recycled
FL S03360
900X1200
 
30
Black
Plastic
MW MPH2620
900x1330
120L
30
Clear
Plastic
MW MPH2610
900x1330
120L
30
Black
Plastic
UP 200/114
900x1340
200L
 
Black
Plastic
BB ED-2114
900x1350
140L
 
White
Compostable
BB SP-006
900x1350
120L
20
Black
Degradable 
PH RB120L
925(500+425)x1200
120L
30
Black
Plastic
FL SC3030
925(500+425)X1200
120L
40
Natural
Plastic
FL S03031
925(500+425)X1200
120L
25
Black
Plastic
FL S03030
925(500+425)X1200
120L
40
Black
Plastic
MPM CA-MDBL031
950X1150
120L
 19
Black
Plastic
UP 200/113
950x1200
120L
 
Black
Plastic
NM SUP B240
1000(850+150)x1500
240L
30
Black
Degradable 
UP 200/115
1120x1500
240L
 
Black
Plastic
BB ED-2240
1125x1500
240L
 
White
Compostable
PH RB240L
1125x1500
240L
 
Black
Plastic
FL S03041
1125(725+400)X1500
240L
25
White
Plastic
FL S03050
1125(725+400)X1500
240L
40
Green
Plastic
BB ED-5938
1125(720+410)x1500
240L
25
Black
Degradable 
MW MPH2630
1125x1500
240L
30
Black
Plastic
FL S03042
1125(725+400)X1500
240L
25
Black
Plastic
MW MPH2640
1125x1500
240L
30
Clear
Plastic
MW MPH2650
1125x1500
240L
50
Clear
Plastic
FL S03190
1125(725X400)X1500
 
25
Black
Plastic
BP PSB-C-0004
1130x1390
240L
23
Green
Compostable
EW BINLINER-240L
1130x1390
240L
25
Green
Compostable
FP BG187630
1130x1400
240L
19
Green
Compostable
FL S03036
1150(550+500)X1200
140L
25
Black
Plastic
MPM CA-MDBL043
1150(700+450)X1450
240L
12
Black
Plastic
MPM CA-HDBL034
1150X1450
240L
 
Black
Plastic
EP 2135128
1150x1470
240L
35
Black
Degradable 
FL SC3040
1150(750+400)X1500
240L
40
Natural
Plastic
FL S03040
1150(750+400)X1500
240L
40
Black
Plastic

DRUM LINERS

CODE

SIZE (WIDTH X LENGTH)

LITRES/WEIGHT

MICRON

COLOUR

TYPE

FL S03010
885(480X405)X1330
44gallon
35
Blue
Plastic
FL S03012
885(480X405)X1330
44gallon
25
White
Plastic
FL S03011
885(480X405)X1330
44gallon
35
Black
Plastic
FL S03200
885(480X405)X1330
44gallon
35
Blue
Plastic
FL S03310
885(480X405)X1330
44gallon
50
Black
Plastic
FL S03212
885(480X405)X1330
44gallon
25
Black
Plastic
FL S03014
885(480X405)X1330
44gallon
25
Black
Plastic
FL S03211
885(480X405)X1330
44gallon
25
White
Plastic
FL S03020
940X1375
44gallon
100
White
Plastic

CARTON LINERS

CODE

SIZE

 

MICRON

COLOUR

TYPE

FL S00004
425X300X450
FS4
 
Natural
Plastic
FL S00005
560X360X560
FS5
 
Natural
Plastic
FL S00006
635X375X660
FS6
 
Natural
Plastic
BB ED-8024
(650+350) x 650mm
25kg
 
White
Degradable
FT CLINERHD
600x400x700
 
15
White
Plastic
EP CARTON LINER
1020x660
Degradable

HORTICULTURAL FILM

CODE

SIZE

 

MICRON

COLOUR

TYPE

FL S07010
600mm x 500m
 
30
Black
Plastic
FL S07020
750mm x 500m
 
30
Black
Plastic
FL S07030
900mm x 500m
 
30
Black
Plastic
FL S07040
1200mm x 500m
 
30
Black
Plastic
FL S07100
1000mm x 200m
 
100
White
Plastic

RESEALABLE BAGS

CODE

SIZE (width x length)

LITRES/WEIGHT

MICRON

COLOUR

TYPE

FT RESEAL004
25 x 25mm
 
40
Clear
Plastic
BF Reseal180x170
180x170mm
50
Opaque
Compostable
BB ED-2600
180x190mm
Opaque
Compostable
EP SANDWICH BAG
180x210mm
Clear
Degradable
FP BG190421
180x220mm
45
Opaque
Compostable
EP ZIP SMALL
200x300mm
30
Clear
Degradable
EP STORAGE BAG
265x400mm
Clear
Degradable
EP ZIP LARGE
305x420mm
Clear
Degradable
FT RESEAL005
50 x 50mm
 
40
Clear
Plastic
FT RESEAL006
50 x 60mm 
 
40
Clear
Plastic
FT RESEAL007
50 x 75mm
 
40
Clear
Plastic
FT RESEAL008
62 x 75mm
 
40
Clear
Plastic
UP 800/156
62x75mm
 
50
Clear
Plastic
UP 800/157
75x100mm
 
50
Clear
Plastic
FT RESEAL009
75 x 100mm
 
40
Clear
Plastic
FT RESEAL010
75 x 130mm
 
40
Clear
Plastic
UP 800/158
75x130mm
 
50
Clear
Plastic
FT RESEAL75X130
75x130mm 
 
70
Clear
Plastic
UP 800/160
100x130mm
 
50
Clear
Plastic
FT RESEAL011
100x 130mm
 
40
Clear
Plastic
FT RESEAL013
100 x 155mm
 
40
Clear
Plastic
UP 800/165
100x155mm
 
50
Clear
Plastic
UP 800/170
130x155mm
 
50
Clear
Plastic
FT RESEAL014
130 x 155mm
 
40
Clear
Plastic
FT RESEAL130X155
130x155mm
 
70
Clear
Plastic
RESEAL015
130 x 200mm
 
40
Clear
Plastic
UP 800/180
130x200mm
 
50
Clear
Plastic
UP 800/190
155x180mm
 
50
Clear
Plastic
FT RESEAL016
155 x 180mm
 
40
Clear
Plastic
FT RESEAL017
155 x 230mm
 
40
Clear
Plastic
UP 800/200
155x230mm
 
50
Clear
Plastic
FT RESEAL155X230
155x230mm
 
70
Clear
Plastic
UP 800/203
180x255mm
 
50
Clear
Plastic
FT RESEAL018
180 x 255mm
 
50
Clear
Plastic
FT RESEAL019
195 x 195mm
 
50
Clear
Plastic
UP 800/205
195x195mm
 
50
Clear
Plastic
UP 800/207
200x255mm
 
50
Clear
Plastic
FT RESEAL020
200 x 255mm
 
50
Clear
Plastic
FT RESEAL021
230 x 305mm
 
50
Clear
Plastic
UP 800/210
230x305mm
 
50
Clear
Plastic
FT RESEAL230X305
230x305mm
 
70
Clear
Plastic
UP 800/220
255x305mm
 
50
Clear
Plastic
FT RESEAL022
255 x 305mm
 
50
Clear
Plastic
FT RESEAL023
255 x 355mm
 
50
Clear
Plastic
UP 800/230
255x355mm
 
50
Clear
Plastic
UP 800/235
305x380mm
 
50
Clear
Plastic
FT RESEAL025
305 x 380mm
 
50
Clear
Plastic
FT RESEAL026
305 x 440mm
 
50
Clear
Plastic
UP 800/240
305x440mm
 
50
Clear
Plastic
FT RESEAL024
330 x 330mm
 
50
Clear
Plastic

COFFEE WASTE BAGS

CODE

SIZE (width x length)

LITRES/WEIGHT

MICRON

COLOUR

TYPE

NM SUP BCOFFEE
260X1000
 
 
Black
Degradable
MPM CA-RGB-COFFEE1
330X925
 
 
Black
Plastic