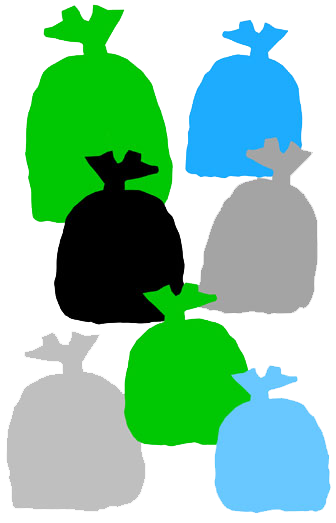 Punched Handle Bag Compostable Large - Ecobags - Pack 50
All couriers are experiencing delays with delivering orders due to Covid restrictions and staff self-isolating.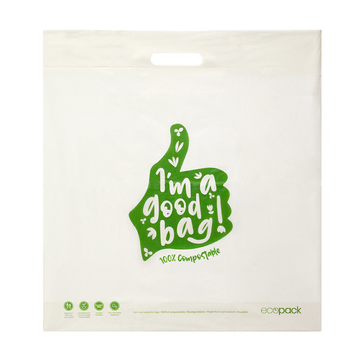 Ecopack Compostable Retail Bags are plastic free, made of GMO Free corn starch. These are internationally certified for home and industrial composting. 100% Biodegradable.

Certification standards Achieved:
· Australian Standard (AS4736-2006)
· European Standard (EN13432-2000)
· American Standard (ASTM D6400)

Size: 50cm(w) X 54cm(h) + 10cm(bottom gusset)
What are the compostable bags made from?
Natural corn starch bio-resins which in moist conditions degrade to carbon dioxide and water without leaving harmful residues in the process. They are certified to strict international standards. Even the ink used on them are non-toxic.
How long do they take to compost?
Around 90-180 days in a composting environment depending on whether its home composting or Commercial composting.
Home compostability is different from industrial compostability for two main reasons:
1) the temperatures reached by the waste inside the home composting bin are usually only a few centigrade degrees higher than the outside temperature, and this is true for short time periods (in industrial composting, the temperatures reach 50°C – with peaks of 60-70°C – for a number of months)
2) home composting bins are managed by amateurs, and the composting conditions might not always be ideal (in contrast, industrial composting plants are managed by qualified personnel, and kept under ideal working conditions).
How to use compostable bin liners:
They are designed to break down! So change your liner every 2-3 days, leaving them in your bin too long will cause them to break down faster.
Avoid: Excessive moisture, sharp objects, and storing them in temperatures over 19 degrees celsius.
Check the date of manufacture printed on the label, they expire approximately 8 months from this date.